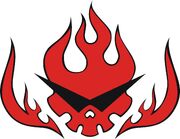 The sexiest of the all
Jikario Masturbates to everything that's Gurren lagann related, He has a huge collection of actions dolls and plays with them every day. There is an unknown white substance on every one of these dolls. His wife is Bogfaire and he has 3 childeren: Madotsuki, Tylosaurus and Holsety, the latter one is Adopted
Jikario only needs 1 Anime Gurren Lagann
Jikario (Or Jesse) Grew up as a siberian bear cub because his birth parents abandoned him and so forced him into a family of bears. It was there he learned to survive in the wild and grew a thick, scraggily, bushy beard that was proof of his vast ammounts of testosterone. Soon he ventured to the outside world and became a pro wrestler. His career quickly came to an end when halfway through his first season, a tragic beard-related incident left him in a hospital bed for several days to grow it back. It was then that he decided to leave the lavish and exicting lifestyle and finally settle down. He met Boggy and she bore him 2 wonderful children, another which they adopted roughly around the same time as the others births.
Ad blocker interference detected!
Wikia is a free-to-use site that makes money from advertising. We have a modified experience for viewers using ad blockers

Wikia is not accessible if you've made further modifications. Remove the custom ad blocker rule(s) and the page will load as expected.